October 25, 2011
2011 INDIAN GRAND PRIX VIEW
KARUN CHANDHOK TO DRIVE IN FP1 IN INDIA
Karun Chandhok
"I am very excited about driving at the new Buddh International Circuit in FP1 in front of my home crowd and while I am obviously disappointed that I won't have the chance to race on Sunday, I accept the team's decision to opt for the experience and talent they have at their disposal with Jarno and Heikki.
"This is a team that is still young, still growing, and I know that they have to do their best to secure their future in the sport – sometimes the hard decisions have to be made, and in this case it must have been a very difficult choice, but I understand that this isn't about me. It's about the team and everything the 254 people on track and back at the factory are doing to build for the future.
"For me, I believe that I have grown as a driver in and out of the car this year with my role in the Friday practice sessions and I'm looking forward to playing my part in helping the team have another strong weekend on track."
Heikki Kovalainen, Car 20 – Chassis T128-04:
"I think India is going to be a fascinating race, for us and F1 in general. I suspect we are going to be given an incredible welcome, and to be able to race on a brand new circuit is always an interesting challenge, so whatever happens in the race I think it will be a great week for the whole sport.
"After Singapore I went back to Europe to do a day in the simulator to get used to the track, and it looks cool. There's the obvious overtaking zone at the end of the long straight and then a few pretty standard medium speed corners but I think the main challenge for us is going to be finding a balance that suits the demands of T10 to T13, which is quick, and the hairpins at T3, T4 and T16.
"We won't know anything about tyre degradation until we get out there, but whatever happens it's going to be hot, probably a bit mad, but seriously good. I can't wait!"
Jarno Trulli, Car 21 – Chassis T128-03:
"I've obviously been to a lot of new circuits throughout my F1 career but I'm looking forward to India more than most. I'll do my usual cycle around the track on Thursday and have a close look at the circuit, and when I get in the car I'm usually up to speed within four or five laps.
"We'll run similar downforce levels to the Korea / Suzuka spec and as we were genuinely competitive in the races at both those tracks I think we'll be ok in India. I'm sure it will be another good race for us, and I think the whole weekend will be fascinating, for us and for the fans."
October 21, 2011
2011 INDIAN GRAND PRIX PREVIEW
Lewis Hamilton
Have you been to India before?
"Yeah, I've been a few times before – we've done a few Vodafone promotional days there. The last time was just crazy – just after Singapore, we did a demo run in Bangalore and were expecting 5,000 people to turn up. On the day, there were around 40,000 fans – it was just incredible."
Do you think India is looking forward to Formula 1?
"You can't believe how many people are aware of Formula 1 and how many are looking forward to the race next week. There's already a great deal of knowledge about the sport – I think it's going to be a big deal.
"India's a sport-mad nation – mostly, it's about cricket, which is understandable because they're a very successful cricketing country, but I really think the people of India are going to take Formula 1 to their hearts. The reception we've had in the last few years has been greater than I could ever have predicted and I think the whole country is ready for something new and something exciting.
"I really hope India will get turned on to Formula 1 in a big way – it would be amazing to have an entire continent supporting you – and I really hope we can put on a fantastic race!"
Do you think Vodafone McLaren Mercedes will be competitive next weekend?
"It's too early to say, but I think we're set to be competitive at all of the final three races. We were quick at Singapore, Japan and Korea – and I think the pattern at the front has sort of settled down now as we reach the end of the season. I think we have a car that can be quick anywhere, so I'd like to think we'd be in the hunt again next weekend."
October 11, 2011
Stefano Domenicali: "First of all on behalf of the Scuderia, I wish to congratulate Sebastian Vettel on clinching his second Drivers' title: he has had an incredible season and this fantastic result is well deserved!
"As for us, I don't think it's out of place if, for the second time running, I use the adjective amazing, this time to describe Fernando Alonso's race today. Our driver was always on the attack and came very close to a win which would have been incredible, given our performance two weeks ago in Singapore. All these changes of fortune in terms of who is competitive, confirm once again how hard it is to understand as well as possible the real performance of the car-tyre packages at each track.
"Felipe was also having a very good race, at least until the contact with Hamilton: the damage his car suffered in this incident probably penalised him excessively in the second part of the race.
"There are still four races to go this season, in which we will do our utmost to achieve the objectives that are still within our reach: winning again, taking Fernando to second in the Drivers' classification and learning as much as possible from this car with a view to 2012."
Pat Fry: "A great result today at Suzuka, especially in terms of how competitive we were on track. Fernando came very close to winning, getting the very most out of the equipment at his disposal, trying to attack at every conceivable opportunity.
"Felipe also drove a good race, but first he might have paid the price for a pit stop that was delayed by a few laps and then there was the contact with Hamilton: in the end he found himself in traffic and we have often seen this year how hard it is to pass a Mercedes, even if we have a better pace.
"We had a three stop strategy, aware that it would not be an easy one to manage given the rather high level of tyre degradation. The Safety Car period gave everyone a hand and, for once, even the traffic helped us a bit, at least with Fernando. We were not able to make the most of our pace in the final part of each stint with the Soft tyres, because in any case it always costs you a bit pitting early, at least until the point at which you don't lengthen the final stint of the race too much.
"Here too, the performance on the Mediums was not that bad, also because we suffered a lot less from our traditional problem of getting the harder compound up to temperature. Now we will try to do the same again next weekend in Korea: it would be nice to get another win before the end of the season, but we know it will be difficult!"
Alonso 2nd 1:30.54.587 +1.160
Massa 7th 1:31.21.667 +28.240
Weather: air 26 °C, track 38/35 °C. Chassis: Alonso 291, Massa 290
October 4, 2011
Felipe Massa
A radio broadcast to Felipe Massa from Rob Smedley, his race engineer, during the Singapore Grand Prix, has just been released where Rob Smedley tells his driver "Hold Hamilton as much as we can. Destroy his race as much as we can. Come on, boy…,".
Ferrari have since said that the comments were "not politically correct" but had nothing to do with the subsequent collision which resulted in Hamilton pitting for a new nose and Massa pitting to change a punctured tyre.
"Words, words, words…Reading some of the English daily papers, it seems the Horse Whisperer is not alone in having his thoughts turn to William Shakespeare when he stumbled across the polemical mountain made out of the molehill that was the phrase delivered by Rob Smedley during the Singapore Grand Prix,".
"It's true that Felipe Massa's race engineer was caught up in the heat of the moment and chose to use the verb "destroy" at some point.
"It might not have been the most politically correct choice of word, but it definitely carried no malicious intent, especially when you take into account that Rob is a Middlesbrough lad, born and bred!
"It is also true that this exhortation to Felipe came at the exit to Turn 5 on lap 11 of the race, at the end of which both the Ferrari man and Hamilton were due to come in to the pits together. In other words, it had nothing to do with the collision between Felipe and Lewis that happened on the following lap.
"It would not have taken much to avoid this misunderstanding, but that's what happens in the frenetic world of Formula 1. When all is said done, as the Bard of Avon himself might have put it, it was all much ado about nothing."
September 27, 2011
Lewis Hamilton
The Scottish former triple world champion believes that Lewis Hamilton needs to be more controlled in his driving. "I am a bit confused because he certainly knows how to drive and has a very large amount of natural talent but if he is going to be a great driver he cannot have serial incidents and none of the great drivers ever drove in that fashion.
"He has all the skills but somehow or other, he jumps out of gear mentally – like in Singapore qualifying, leaving the pits. I cannot believe he nearly had an incident that would have taken him out of qualifying.
"The race incident was again uncalled for, so I think he needs to think about his mind-management. He has the skills, and he has the abilities, but unfortunately he is having too many incidents.
"Michael Schumacher has had the same problem, but all the great drivers, the Fangios, Jim Clarks, Niki Lauda, myself – we didn't have many accidents."
Lewis's father, Anthony Hamilton, used to be his manager, but they parted company and Anthony is unhappy with the lack of support that he thinks that his son is receiving. "His management need to do more. What I will say is look up the paddock. Every driver that's got a driver manager, the manager is here and in the driver's life."
September 26, 2011
September 26, 2011
"The best possible result with the equipment we had"
Marina Bay circuit, Sunday September 25
JENSON BUTTON
MP4-26A-04
Started:            3rd
Finished:          2nd
Fastest lap:      1m48.454s (1st)
Pitstops:          Three: laps 14, 30 and 48 (Op-Pr-Op-Op)
2011 points:     185 (2nd)
"I was being told throughout the race to look after the car and the tyres; the only time I was really able to push was in the last 12 laps, when I chased down Seb [Vettel] on the Supersoft tyre.
"I gave it everything – but, in the end, we didn't quite have the pace to make up the gap. Still, I think we had the best possible strategy for both Saturday and Sunday, and I couldn't realistically have asked for a better result this weekend.
"In fact, we didn't make any mistakes this weekend and, as a team, I think we did the best possible job with the equipment we had. We need to improve a few things in our package, but I think Suzuka should suit us a little better [than Marina Bay].
"I've had a run of podium finishes recently, so I'd really love to finish one step higher at the next race!"
LEWIS HAMILTON
MP4-26A-03
Started:            4th
Finished:          5th
Fastest lap:      1m50.832s (+2.378s, 4th)
Pitstops:          Five: laps 11, 13 (front-wing change), 15 (drive-through), 29 and 48
(Op-Op-Pr-d/t-Op-Pr)
2011 points:     168 (5th)
"Congratulations to Seb on a great drive – he drove fantastically all weekend.
"And well done to Jenson, too – he showed what was possible from our package by really getting the maximum out of it. He nearly brought home the victory too – so I'm encouraged that we can continue to challenge for wins for the rest of the season.
"I had fun picking off cars after my penalty, but it was frustrating to once again be down the field when I felt we had a car that could have challenged up at the front.
"For me, this weekend was a bit of a missed opportunity. As always, though, I'll put it behind me – I'm already looking forward to Suzuka!"
MARTIN WHITMARSH
Team principal, Vodafone McLaren Mercedes
"Jenson drove a truly fabulous race yet again – and bagged 18 valuable world championship points as a result.
"He controlled his pace faultlessly, looked after his tyres brilliantly, and then attacked the Marina Bay circuit with total commitment at the end when aggression rather than circumspection was called for. But for a bit of bad luck in the form of a few backmarkers whom he encountered at precisely the inopportune moment, he could well have snatched a truly sensational victory.
"He's now a clear second in the drivers' world championship too.
"Lewis had a more frustrating day, but drove with great determination to finish fifth at the chequered flag, pulling off some fantastic passing manoeuvres in so doing.
"All in all, he had to make five visits to the pitlane – so, as I say, bearing that in mind, fifth place was a seriously impressive achievement.
"Next, though, we go to Suzuka, which is one of the great circuits on the Formula 1 calendar from a driver's point of view.
"Both Lewis and Jenson will be aiming for ultimate honours there – as indeed they will in all the remaining races of the 2011 season."
September 26, 2011
| | |
| --- | --- |
| | SINGAPORE GRAND PRIX 2011 |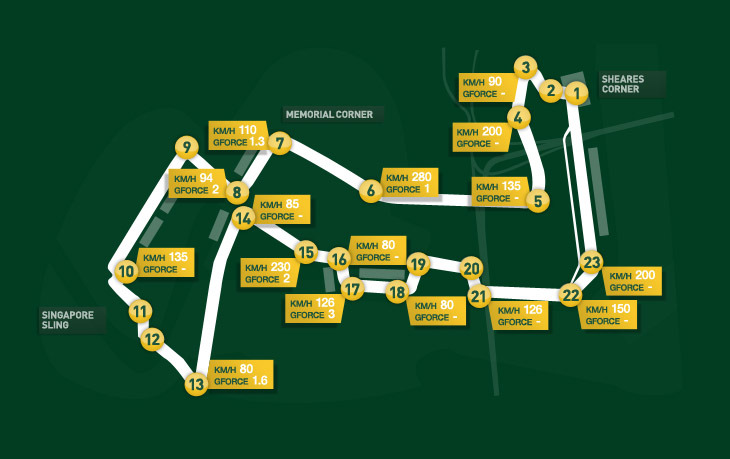 Team Lotus Information
Number of GE employees worldwide
> 300,000
Power to weight ratio of Caterham Seven R500
513 bhp / ton
Global page views on CNN.com in May 2011
1.6 billion
Weather
  Dry
Min / max air temp: 31˚ / 32˚
Min / max track temperature: 33˚  / / 35˚
Runplan
Driver: Jarno Trulli
Chassis: T128-01
  1930: Car leaves for grid / 1 lap
1945: Pitlane closes
1959: Fire up
2001: Lights out
Lap 17: Pitstop 1
Lap 20: Pitstop 2 (puncture)
Lap 45: Pitstop 3
Lap 48: Retired – gearbox issue
Runplan
Driver: Heikki Kovalainen
Chassis: T128-04
  1931: Car leaves for grid / 1 lap
1945: Pitlane closes
1959: Fire up
2001: Lights out
Lap 12: Pitstop 1
Lap 28: Pitstop 2
Lap 48: Pitstop 3
Finished 16th
Heikki Kovalainen, Car 20 – Chassis T128-04: "I'm really pleased with the performance today and we should all be happy as it was a great race from the whole team. The pitstop strategy worked out well for us and the boys worked brilliantly to get me out quickly each time, helping me make sure I could stay ahead of Petrov at each stop.
"The car felt balanced throughout the whole race and the tyres worked well so I was able to pull away from Petrov and ended up finishing strongly in 16th. It's also good that the upgrade we've brought here has helped us take a small step forward and I think we'll see more from that in Suzuka where it will come more into its own. After a race like today I can't wait to get back in the car, so we leave Singapore feeling pretty good about the last few races of the season."
Jarno Trulli, Car 21 – Chassis T128-01: "I had another really good start and was ahead of both Renaults and the Toro Rosso. They were pushing me but the car felt great and I was able to keep ahead of them pretty comfortably, coming out of the first stop still ahead and feeling good on the second set of tyres.
"Then Jaime hit my left rear and I had to come which was pretty disappointing – it's just bad luck really, but that meant I had to try and fight back which I did my best to do until the gearbox problem meant I had to pull over. I'm pleased for the team that we were able to fight from the start and I think it's a good sign that we could do so well in the race, but now we move on to Japan and I hope we can keep pushing on there."
Thierry Salvi, Renault Sport F1 Support Leader: "I think we can be pleased with how we Heikki finished but again the luck was not with Jarno. Another good start put him in a very good position early on and even after his first pitstop he was still in good shape.
"After that the puncture meant he had to give up the positions he had won at the start which is obviously very bad luck but it was fortunate that Heikki was able to push throughout the whole race and finish in front of the Renault. I think that is a good car and it shows that our car is getting better and better. Engine wise it was all ok for us. We managed the temperatures the pressures well and had no issues on either car so I think we can be pretty happy with how it ended."
September 26, 2011
2011 Singapore Grand Prix Race Report – 25 September
"Force India delivered a strong showing in Singapore as the team picked up 12 championship points with Paul coming home in P6 and Adrian in P8. This is the team's first double points finish since the Australian Grand Prix."
P6 Paul Di Resta, VJM04/02
Tyre strategy: Soft, Supersoft, Soft
Paul: "My first Singapore Grand Prix was a lot of fun and I'm very happy with the outcome. I don't think the safety car really helped us because I still had a lot of life left in the supersoft tyres in the middle of the race, but it didn't really hurt us either. After that it was a case of managing my pace to Rosberg, looking after the tyres and bringing the car home.
"I was in free air for the final part of the race, which helped, and the pace was strong. It's probably my best race of the season, but it's the result of all the hard work behind the scenes. We came here with an upgrade package that has allowed us to gain performance in the race, gain tyre life, and we saw the benefits of that today."
P8 Adrian Sutil, VJM04/04
Tyre strategy: Supersoft, Soft, Soft
Adrian: "We have been aiming to get both cars in the points for a while now, so we can be very happy with where we finished. The points we scored give us some breathing space over Sauber in the championship. It was quite a normal race for me, although I lost some track position under the safety car as Rosberg got ahead of me and stayed there until the end of the race.
"The final stint was quite difficult because I had to do about 30 laps on the soft tyres. I had Perez close behind me and then Massa was closing in fast on the final lap. Fortunately I had enough to hold on to eighth."
Dr. Vijay Mallya, Chairman and Team Principal
"I have to say I am delighted with today's result. We knew we had the performance in the car to get both drivers in the points, but to come away with 12 points is extremely satisfying. It strengthens our sixth place in the championship and moves us closer to fifth place. One of the key moments of the race was the safety car period, when we chose to pit both cars at the same time.
"The pit crew did an excellent job of stacking the cars and that played a critical role in where we ultimately finished. Both Paul and Adrian have performed brilliantly all weekend and haven't put a foot wrong. With five races remaining we now need to build on this momentum so that we continue our strong finish to the season."
September 26, 2011
Singapore Grand Prix
Marina Bay Street Circuit, Singapore
Sunday, 25th of September 2011
Weather: Maximum temperature: Air 32ºC, Track 34 ºC – Hot and humid
Race: 61 laps
Track distance: 5.073 km
Vitantonio Liuzzi         F111-002 #23  20th
Daniel Ricciardo        F111-003 #22  19th
"The 14th race of the Formula 1 World Championship, and only night race on the calendar, took place today at the Marina Bay Street Circuit in Singapore and didn't disappoint, testing both drivers and cars to the limit. Daniel Ricciardo and Vitantonio Liuzzi felt the demands of this Grand Prix as they both had to adapt their strategies as the race went on in order to cross the finish line with their F111's. The Australian and Italian finished in 19th and 20th respectively.
The next race will take place at the Japanese circuit of Suzuka in 15 days, the 7th of October."
Vitantonio Liuzzi: "Today's race has been quite tough; not only because the car was difficult to drive in such conditions but also because we have been a little unlucky. The first half of the race has been good and then, in the last quarter, we were forced to change to our last set of tyres because the rear was going and had to put on the tyres that we used in qualifying.
"Immediately I felt that the car had a lot less grip, to the point where I locked the front on turn 14 without doing anything different and I touched the wall, which caused the wing to break. So I was forced to pit again. After the wall incident the car was difficult to drive with quite a lot of understeer so we just tried to reach the chequered flag from there. So it was tough out there but with the positive of having reached the end".
Daniel Ricciardo: "Unfortunately my race wasn't too exciting because I got my nose clipped on the first lap. It was all a bit bunched into turn 8 and I didn't have a clear line so I just wanted to keep that line for the next corner and had a touch.
"It was my mistake for going in a bit too deep and it was a costly one because then I encountered quite a few blue flags which upset my rhythm. But the middle stint wasn't too bad, we got a bit of a rhythm going but towards the end of the race we got more blue flags and tried to go quite long on the tyres, which was pretty difficult to manage. But we made it and it's good to get to the finish line though in the toughest race of the season. Now I need to keep on working and move forward".
Colin Kolles, Team Principal: "We knew it was going to be a tough race and it has been, but we achieved the main objective of the team that was crossing the finish line with both cars. We had different strategies for each one of the drivers and we knew that the chances of a safety car were high therefore we had alternatives to adapt our strategy quickly.
"The planning was good but it had to come into place earlier than expected when Daniel had to pit to replace his front wing. Both Tonio and Daniel did a good job on the track because they adapted to the circumstances and kept focused. They managed to keep a fairly good rhythm despite the blue flags and pushed each other to the end. This one is over and now we are hoping for a better race in Japan in two weeks".