September 30, 2011
Japanese Grand Prix Preview
7th-9th October
Suzuka, 53 laps, 5.807km
Madrid, 30th of September, 2011
"After passing through Singapore, the Formula 1 World Championship stays in Asia for the Japanese Grand Prix. The 15th race of the season is also the second in a five race stint in the Asian continent. Suzuka is a unique race track as it crosses over itself in the shape of an eight meaning that it is the only circuit in the championship to run both clockwise and anti-clockwise during a lap.
"It is a quick and technical track where downforce and tyre conservation are important elements. One of the standout features at Suzuka is the 130R, a 130 metre radius turn taken at speeds of over 300 km/h.
"Pirelli have chosen the P Zero White medium and the P Zero Yellow soft tyres for the Japanese Grand Prix.
"Narain Karthikeyan will be driving one of the F111's on Friday during the first Free Practice session of the Grand Prix alongside Daniel Ricciardo. The Indian driver will contribute to the HRT F1 Team at Suzuka, like he did in Singapore, and continue with his preparation ahead of the Indian race. Vitantonio Liuzzi will be back in the #23 car from FP2 onwards."
Vitantonio Liuzzi: "We're reaching the final straight of the championship with the next event in Japan. Suzuka is one of my favourite circuits and definitely one of the nicest tracks. It is a really fast and technical circuit where set up and aerodynamics are key to having a good result. It won't be an easy place for us but we will put up a fight until the end. We are really motivated to keep on pushing until the end of the season.
"Weather conditions are uncertain, which could be interesting since experiencing difficult weather conditions in Japan may give us a better chance of achieving a good result. For this Grand Prix I've wanted to pay my respects to the victims of the earthquake that struck Japan earlier this year by wearing a special edition helmet named Embracing Japan designed by Kaos Design, the helmet will later be put up for auction with the benefits going towards charity".
Daniel Ricciardo: "I'm looking forward to driving at Suzuka for the first time. I've heard from many of the drivers that it is a beautiful circuit with a lot of history. I spent some time in the simulator and the first sector looks like a lot of fun with the 'S' curves followed by an uphill which, apparently, is a lot steeper than what you can appreciate on television. It seems like a real driver's circuit which is always nice, a place where you can try and get the most out of the car.
"I'm really excited because reality is always better. The weekend in Singapore was positive, the progression has been good in every race and I hope that this trend will continue in Japan".
Colin Kolles, Team Principal: "After the earthquake that struck Japan earlier this year, it is important that Formula One goes back there and we all show our support and commitment to the country and the Grand Prix. Singapore was a tough race but we had a positive weekend overall closing the gap to our rivals and having both cars finish the race. Nevertheless, we have to continue making steps forward.
"Suzuka includes some of the most challenging corners like the high-speed 130R and the famous Spoon Curve, and its unique layout makes it one of the most special ones on the calendar. It is a medium to high downforce track but we expect the updates that we brought to Singapore to slightly improve our performance under such conditions. Tonio's experience and skills will certainly contribute to this improvement while Daniel will find himself again facing a new challenge at a track that he has never driven around before, although I am sure he will adapt to it and push as he has done over the past races"
July 19, 2011
Pirelli P Zreo
The Italian tyre manufacturer, Pirelli, evaluates this weekend's German Grand Prix. "The Nurburgring is one of the most iconic venues in motorsport, but the modern 5.148- kilometre circuit built in 1984 for the European Grand Prix has little in common with the 22-kilometre Nordschleife that made the name famous.
"The rollercoaster blind crests of the legendary northern loop, which hosted the German race until 1976, have given way to a much more open and technical track, which tests all the parameters on a Formula One car, including the tyres.
"To cope with the varied demands of the Nurburgring, Pirelli is bringing its P Zero White medium tyre as the prime and the P Zero Yellow soft as an option.
"There is an ample variety of speeds and corners, with plenty of changes in direction and some steep cambers that enable the drivers to carry a lot of speed through the corners. This also gives rise to a number of heavy braking areas, while the tyres are also put to the test by several impacts with the kerbing that is a feature of the track.
"With six German drivers on the grid this year, the country is better represented than any other nationality, making Germany's round of the Formula One World Championship extremely popular with the fans. However, none of the teams has particularly recent data for the Nurburgring, as the circuit takes turns with Hockenheim to host the German Grand Prix.
"Although the Nurburgring has not often been declared a wet race, the last one being in 2007, the weather in the Eifel region is notoriously changeable due to the mountainous nature of the terrain. This means that it can be dry on one part of the circuit but very wet at another: just as was the case at the beginning of the British Grand Prix two weeks ago in Silverstone.
"On that occasion the P Zero Blue intermediate tyres impressed with their consistent and durable performance in a wide range of conditions, and they could feature once again in Germany, along with the P Zero Orange wets.
"During Friday's free practice sessions, the teams will have the chance to try out a new version of the P Zero Yellow soft tyre, which is being evaluated for use in the future. This new version of the tyre features increased durability and less degradation."
| | | | | |
| --- | --- | --- | --- | --- |
| | PZero Red | PZero Yellow | PZero White | PZero Silver |
| Australia | | Soft | | Hard |
| Malaysia | | Soft | | Hard |
| China | | Soft | | Hard |
| Turkey | | Soft | | Hard |
| Spain | | Soft | | Hard |
| Monaco | Supersoft | Soft | | |
| Canada | Supersoft | Soft | | |
| Europe | | Soft | Medium | |
| Great Britain | | Soft | | Hard |
| Germany | | Soft | Medium | |
May 25, 2011
2011 Monaco Grand Prix Preview
Vijay's vision
An introduction from the Chairman and Team Principal.
"Few sporting events can rival the glamour and spectacle of the Monaco Grand Prix. It's a truly unique event that sums up what Formula One is all about and a weekend that everybody enjoys.
"Our approach to Monaco will be similar to Barcelona as we continue to evaluate our new aero platform. It's especially challenging to introduce this without in-season testing and it will take time for us to fully understand and bring through this new philosophy.
"We will therefore continue to run elements of the new package this weekend so that we can have a phased-introduction over the next few races.
"We saw in Barcelona just how competitive Formula One is at the moment and the teams around us in the midfield are all quite evenly matched. I expect another close fight in Monaco, but we will be pushing hard to be at the head of the midfield group to try and pick up some more points."
Paul on Monaco
Paul looks forward to racing at home.
"Monaco is one of those races that every driver dreams about. It's one of the most challenging circuits of the year and one of the 'big' races in motorsport. Monaco is also where I live these days, which means I will have two 'home' races this year. With all the yachts in the harbour there is always a real buzz to the place and I know it's going to be an exciting weekend.
"Obviously to go around the streets in a Formula One car, where I normally drive my road car, will feel very special. I've raced there before in Formula 3, but that was six years ago and it will feel totally different in a Formula One car.
"Qualifying is normally the key in Monaco. It used to decide your race. We'll have to see if it's any different this year with the nature of the Pirelli tyres and the different strategies, but I think overtaking will still be very difficult. I'm definitely looking forward to the challenge."
Adrian on Monaco
Adrian looks ahead to one of his favourite races of the year.
"Monaco is a very special place for me. I've always liked street circuits, but I also have great memories there. It's a circuit where I've usually gone well and 2008 was a great race for me, even though we didn't get the result we deserved.
"It's a special race weekend in general. It's a little bit longer because you have Friday free and you can let all the glamour soak in. But after the weekend it's nice to go back home and back to reality.
"Monaco has no margin for error. Some of the modern circuits are too easy, but Monaco is a real old traditional place. The barriers are close but you respect the limit more and you have to build your speed up slowly through the weekend so that you don't go over the limit."
May 25, 2011
Monaco Grand Prix Preview
27th-29th May
Circuit de Monaco, 78 laps, 3.340km
"The FIA Formula 1 World Championship makes its most glamorous stop in Monaco for one of the most prestigious races on the calendar.
"Technical excellence, precision driving and bravery are all key in order to have a good weekend in the Principality. Brakes are worked very hard in the Circuit de Monaco and overtaking is almost impossible meaning that qualifying plays a vital role in the outcome of the race. Tyre strategy will also have a big say in the race since aero efficiency isn't as crucial in Monaco as in other places. Pirelli will introduce its softest range of tyres for this race, the PZero Red Supersofts which will add a new factor to the difficulty of the race."
Colin Kolles, Hispania Racing Team Principal:
"The Monaco Grand Prix is the biggest race in Formula 1. Hopefully we will have a better weekend than in Barcelona, even though we proved there that we have made progress. In fact we were ahead of others fighting with the Virgins but unfortunately we were unable to finish the job off.
"In Monaco we're looking to confirm this progress. We are also hoping for some clarification regarding the diffusers, so we will wait and see how that turns out."
Narain Karthikeyan, Driver #22:
"Every Formula 1 race is special but Monaco somehow manages to surpass even that. Not just the race itself, but everything surrounding it is just fantastic. It is definitely the jewel in the F1 crown. I'll never forget the last few laps in 1992 when Senna beat Mansell.
"I've only raced here once, in 2005, so I have a lot of catching up to do and street circuits are always a tough challenge. It is a circuit where history is ingrained in every single metre of track. Personally, my favourite part is the fast left handed Tabac corner leading into the swimming pool complex. As a driver, I have to ensure that I don't make any mistakes and concentrate 100% for the entire duration of the weekend.
"Once we do some running on Thursday and are able to assess all the new variables on the car, especially with the new tyres, only then will we be able to decide which kind of strategy will be the optimum for the race on Sunday".
Vitantonio Liuzzi, Driver #23: "I love Monaco, it's one of the greatest races in motorsport as you drive between the rails and really need to be fearless. It's the most glamorous race, an amazing weekend for everyone, it truly is something spectacular.
"Last year was my best race there when I finished 8th after having a great qualifying session. It's a date you look forward to on the calendar because it's a special track, not as easy as a normal circuit, a very demanding place".
May 23, 2011
Fernando Alonso Ferrari F10
Ferrari's Team Principal, Stefano Domenicali, is concerned that the hard compound tyres do not suit the Ferraris. He commented: "At least you cannot say that Pirelli is working for Ferrari… there were doubts at the beginning, that the company would make sure that the tyres for the team would be perfect! Now, apart from that, we need to see what will be the future.
"We need to work very closely with them, to see if this is the right one that we should have. We need to be very cautious. We have seen so many different things happen in the first couple of races since the beginning, and it is difficult to make a judgement at the moment.
"What we saw in Spain were conditions that needed to have maximum downforce, and we don't have it! We have to multiply the fact that with the hard tyre we were not able to make it work. Remember Fernando was leading for 18 laps – so in 46 laps we were lapped – losing around three seconds per lap. That is difficult to explain.
"I have to say that this was the worst race for us since the beginning in terms of race pace. The last couple of races we were quick, and it is a shame but we have seen that things are so changeable this year, and maybe the tyre aspect has made a big difference so we need to be cautious.
"We need to see where we will be in the next couple of grands prix, as we will have different tyres, which are much softer, and different configuration of cars. Then we will see where we are in the championship, because we will not give up.
"The nature of the people in Maranello has to be that they need to push and, if we still see a light, we need to work hard. We want to see if we can keep it alive as long as possible, so we still believe."
May 22, 2011
2011 SANTANDER SPANISH GRAND PRIX
"A SUPERB TEAM EFFORT"
Circuit de Cataluña, Sunday May 22
LEWIS HAMILTON
MP4-26A-03
Started: 3rd
Finished: 2nd
Fastest lap: 1m26.727s (1st)
Pitstops: Four: laps 11, 23, 35 and 49 (Op-Op-Op-Pr-Pr)
2011 points: 77 (2nd)
"I was pleasantly surprised by how fast we were today. In race trim, I actually think we were quicker than the Red Bulls, except through the really high-speed stuff.
"I pushed as hard as I could all afternoon, and I'm really happy with the result – a few more laps and it might have been a different order at the front, but I just ran out of time at the end.
"Despite DRS, it's still very difficult to overtake at this track – you can't follow through Turn Three or Turn Nine, so that makes it really hard. Also, I was in Sebastian's [Vettel] dirty air and the car was sliding a lot – it was incredibly tough behind him.
"We're probably still losing out a bit too much in qualifying, but our race pace is right there. So, as you'd expect, we'll be looking at ways of improving our qualifying pace.
"I was also really happy to see Jenson come through and finish on the podium – it's a great result for the team. Now I'm already looking forward to Monaco – it's a circuit where high-speed downforce is less critical and where the driver can make a difference, so it should be a strong track for us."
JENSON BUTTON
MP4-26A-04
Started: 4th
Finished: 3rd
Fastest lap: 1m27.518s (+0.791s,7th)
Pitstops: Three: laps 14, 30 and 48 (Op-Op-Op-Pr)
2011 points:     61 (4th)
"I had a terrible start and was on the outside into Turn One and Turn Three, where I lost further places. I was down in 10th at the end of the first lap, which was extremely disappointing.
"After that, I didn't think third would really be possible, but as the others all made their pitstops so early, and as my tyres still felt good, I started to think it might be on. After Turkey, it was really fantastic to make the strategy work for me today.
"We stayed on the Option for as long as possible and I did three stops to the others' four – and the result was that I had a great race. I overtook Mark [Webber] and Fernando [Alonso] within a lap of each other. I knew I wasn't going to catch the first two, but I pushed as hard as I could just in case something happened ahead of me.
"Tyre life with these Pirellis is like a switch – once you lose the rears, the lap-times just drop. We got it just right today – and, when I finally got onto the Prime, the circuit was in a good condition and the tyre worked pretty well. I really felt like I raced today.
"Finally, I want to say a big thank-you to the team today – we chose a fantastic strategy, the pitstops were perfect and we made everything work. This was the result of a superb team effort."
MARTIN WHITMARSH
Team principal, Vodafone McLaren Mercedes
"Jenson was edged down to 10th place on the first lap, and from then on he was always going to be playing catch-up. But, using a three-stop strategy hatched in response to that setback, he did just that. He caught up superbly, in fact, balancing the need for speed with the equally crucial requirement that he look after his tyres, and the result was that he ended up on the podium alongside Sebastian and Lewis. It was one of those drives that marks out a true world champion.
"As for Lewis, he drove another storming race, taking the fight to Sebastian from lights to flag. It's probably fair to say that Red Bull are still a little quicker than us in qualifying, but Lewis showed this afternoon that in race spec we're now able to match them every inch of the way. Indeed, Lewis was looking for a way past Sebastian in the final few laps – their battle must have made for a thrilling finale for TV viewers and trackside spectators alike – but in the end he just couldn't pull it off. Nonetheless, as I say, he drove brilliantly.
"In summary, then, we scored 33 world championship points today, which is another decent haul. But we want to win and we intend to win, and that's exactly what we'll be doing our damnedest to do on the famously challenging streets of Monte-Carlo in just a few days' time."
May 17, 2011
Dr Vijay Mallya is happy that it is the start of the European season: "The Spanish Grand Prix is always a significant moment in the season. It marks the return to Europe and it's the moment when the Formula 1 development race really begins.
"At Force India we have some upgrades to bring to the car in the coming races and I'm excited to see how things will unfold.
"We started evaluating those changes at the last race in Turkey by running a new front wing during free practice. It was a shame that it was wet because it limited our test programme and we chose not to run those new parts for the race.
"We are now analysing what we learned and hopefully we can add this new package to the car either in Barcelona or Monaco, depending how things go. When our new aerodynamic developments are in place, I'm confident we can take a step forward in terms of performance.
"As for the racing so far, I think the new rules have certainly achieved their objective. The races have been very exciting and the new Pirelli tyres and DRS have helped to add more unpredictability.
"I believe this close racing is great for fans of our sport, who can look forward to more of the same this weekend. Hopefully both Force Indias will be in the hunt and challenging for points.
May 11, 2011
Jarno Trulli Lotus T127
Jarno Trulli believes that qualifying will not be as important as it used to be as teams save sets of new tyres for the race. "Like everything in life, the 2011 changes in F1 have some pros and cons. The pros are more exciting and spectacular races, which the public seem to like. The cons are grands prix that are a bit less comprehensible and, since Istanbul, what I call 'the end of qualifying.'
"For the first time this year we've seen that, once Q3 is reached, instead of trying to snatch pole position off the others like they always do, drivers and teams preferred to make their calculations and just be content.
"The truth is that strategy this year has a more decisive role than usual. Here at Istanbul, for example, the race started before the race itself by saving tyres. As I've always said, everyone's mission at this time is to learn the Pirellis.
"Well, after three races we finally have an initial and reliable measure of the level of tyre degradation so, whoever had the capability and the strength to save a set of tyres on Saturday did just that.
"This thing obviously involved the drivers that made the top ten. As soon as they made the Q2 cut, they started to make their calculations. For many the problem was whether to utilize or not the remaining set of tyres. The ones that got into Q3 by a whisker, the outsiders, didn't even try.
"The top guys set the laptime then stopped. The others, the ones who usually animate the fight, did one try and quit at the first mistake.
"Some feel a formula that worked has been ruined. I don't want to say that. I simply observe that these are the rules and the drivers have adapted to them. "There are pros and cons, I repeat: the pros are better races decided in the last 10-15 laps depending on the strategies and the tyres, while the cons are that qualifying is less spectacular and more tactical."
May 6, 2011
2011 TURKISH GRAND PRIX – FREE PRACTICE

"BOTH DRIVERS' LONG-RUN PACE LOOKS EXTREMELY PROMISING"
Istanbul Park, Friday May 6
JENSON BUTTON
MP4-26A-04
P1 programme                                     4 laps                           2m00.666s (+21.996s)   23rd
P2 programme                                     26 laps                         1m26.456s                    1st
"I'm pretty happy with how today went. The car's been working reasonably well – there are always things you want to improve, but we've made some good progress and have a lot of useful data to go through.
"Trying to get the car to ride the bumps well into Turn 12 has been difficult, but we improved it through the session. Turn 12 is really bumpy – it's like they put a motocross jump in there!
"And Turn Eight's quite tough too because, depending on your balance, it can damage the front and rear tyres. It's about getting the balance right, which we concentrated on today.
"We haven't put everything on the car that we wanted to this weekend, which is disappointing, but we still have some useful upgrades so it's nice to keep moving forwards."
LEWIS HAMILTON
MP4-26A-03
P1 programme 1 lap                             No time                        24th
P2 programme                                     22 laps                         1m27.033s (+0.577s)     3rd
"We saved tyres during this morning's session. In the afternoon, despite the limited running in P1, we got quite a lot of our run-plan completed, which was very satisfying.
"I initially struggled a little bit with set-up, which we can look at and fix overnight, but I was really pleased with my long-run pace – I think it was probably one of the best practice long-runs I've ever had.
"Generally, our car has a pretty good baseline. We're still in the fight: the most important factor this weekend is to continue with our consistency – getting on the podium is my target, and if we can win that'll be even better!"
MARTIN WHITMARSH
Team principal, Vodafone McLaren Mercedes
"This morning's uncharacteristic heavy rain meant that we opted to conserve our supply of Wet and Intermediate Pirelli tyres by sitting out the majority of the session. With cold and unpredictable weather predicted for the remainder of the weekend, and with relatively little to learn from running on a wet track, we felt it was more prudent to save the rubber for Saturday and Sunday.
"Happily, this afternoon's session turned out drier than we'd imagined, and we were able to pack the majority of our day's run-programme into P2. Indeed, both drivers' long-run pace looks extremely promising.
"Lewis and Jenson felt happy with the balance of their cars, although both said that the bumps upon entry to Turn 12 were fairly severe and unsettled the car.
"It's too early to read anything into this afternoon's times, but we're happy that we've found a good baseline for the set-up and that we can build upon it for the rest of the weekend."
May 6, 2011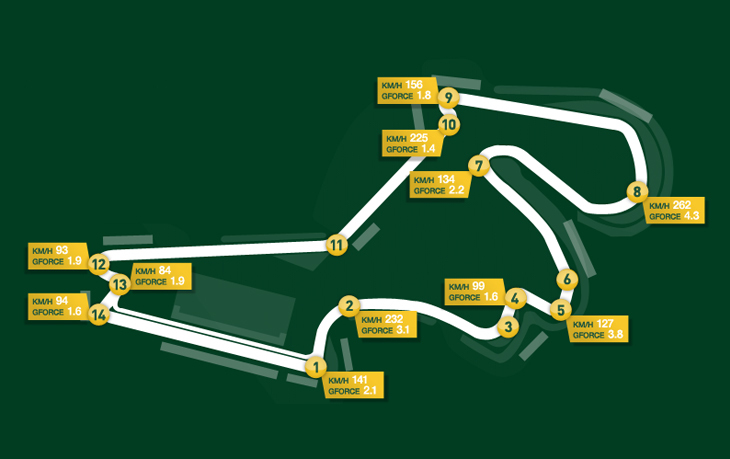 Team Lotus Information
Number of field cameras CNN has deployed worldwide
350 +
Dell technical support centres worldwide
60
Year of Pirelli company's birth
1872
Total laps
FP1
CHA – 6
TRU – 6
FP2
KOV – 37
TRU – 40
Weather
Rain (am), Overcast / dry (pm)
Min/max track temperature: 12˚/20˚
Fastest laps
FP1
CHA 1.51.676 lap 3
TRU 1.43.986 lap 4
FP2
KOV 1.30.281 lap 19
TRU 1.29.409 lap 21
06/05/11 Runplan
Karun Chandhok (FP1)
Heikki Kovalainen (FP2)
Chassis: T128-04
FP1 (CHA)
1003 – 1005: Installation (1 lap)
1005 – 1125: System checks
1125 – 1130: Run 2, 5 laps
FP2 (KOV)
1400 – 1415: Run 1, 8 laps
1415 – 1423: Adjustment – rear brake blanking
1423 – 1436: Run 2, 8 laps
1436 – 1443: Adjustments – rear brake blanking
1443 – 1455: Run 3, 7 laps
1455 – 1504: Adjustments – front suspension setting
1504 – 1511: Run 4, 4 laps
1511 – 1516: Adjustments – front wing
1516 – 1530: Run 5, 10 laps
06/05/11 Runplan
Jarno Trulli
Chassis: T128-03
FP1
1002 – 1004: Installation (1 lap)
1004 – 1125: System checks / Adjustments – front wing, brake balance, F & R brake blanking
1125 – 1130: Run 2, 5 laps
FP2
1400 – 1414: Run 1, 9 laps
1414 – 1424: Adjustments – rear brake blanking
1424 – 1437: Run 2, 8 laps
1437 – 1445: Adjustments – F&R brake blanking, rear wing element
1445 – 1458: Run 3, 8 laps
1458 – 1509: Adjustments – front wing, rear wing element, front brake blanking
1509 – 1530: Run 4, 15 laps
Karun Chandhok: "The wet weather meant we limited the morning runplan but despite that it was good to get back out on track. I didn't get a chance to push but I'm enjoying working with the team and the more time I spend with everyone the more I can see how far this team can go. There's a great spirit across the whole garage, and back in the factory, and with the constant progression towards the midfield this is a great place to be working in."
Heikki Kovalainen (car 20): "That was a reasonable session for me – I had a DRS issue that definitely cost me some time but I think the balance was pretty good and we got through some decent setup work so I think we'll be ok tomorrow."
Jarno Trulli (car 21): "I'm pleased in general with today. It's been a positive, trouble free day and we managed to run through a number of options that give us a good direction for tomorrow and the race. We have made an adjustment to the power steering and that's definitely improved things in the cockpit for me but there's more to come from that and the whole car so I think we can go into tomorrow in good shape."
Thierry Salvi, Renault Sport F1 Support Leader: "We didn't manage to do much running in P1 this morning due to the weather so we had to work a lot harder during P2 this afternoon, especially with specific engine mapping. I hope we will have good feedback from the drivers and can take another step forwards on strategy. I think there is more to come from the whole package tomorrow so this was a pretty good start to the weekend."
Mike Gascoyne, Chief Technical Officer: "A pretty good day. Obviously we had limited running this morning in the wet conditions as we wanted to save tyres in case we have to use wets in the race. Unfortunately that limited the running Karun and Jarno could do but this afternoon we completed the whole program without any real problems with the performance levels we showed I think we are looking at having a pretty good weekend."