September 30, 2011
JAPANESE GRAND PRIX – PREVIEW
Lewis Hamilton
"I love Japan, and the Japanese Grand Prix is one of the highlights of my season.
"This year, of course, we all travel to Japan extremely mindful of the consequences of the earthquake and tsunami that ravaged the country earlier this year. I hope that the Japanese Grand Prix can successfully show the world that the country is strengthening and rebuilding itself after the terrible events of last March.
"As for the race itself, I think Suzuka will play to my strengths: it's a track that really requires you to drive in an attacking way to be able to get a good laptime. It's an uncompromising place. But that's when the thrill of driving a Formula 1 car is at its highest; when you know you can't afford a single mistake and where driving on the absolute limit is the only way to get the best time. In that sense, it's a lot like Monaco, and maybe that's why I like the place so much – it's unique.
"I think we're headed there in pretty good shape: we know that the Red Bulls will be strong – but we also have a very quick car, and we can make it work on different kinds of circuit.
"Suzuka is another reasonably high-downforce track, which should play to our strengths. The weather in Japan in the autumn is always unpredictable – we've seen before that it can be beautifully sunny and hot or extremely cold and wet.
"I'll take any conditions as long as I can race hard."
Jenson Button
"I consider Japan my second home – it's a place that's very close to my heart, and, obviously, it's going to be a very emotional experience for me to be racing in Japan for the first time since the events of last March.
"I'm very proud that the Formula 1 world championship will put Japan on the world's sporting stage next weekend: while the country is still collectively rebuilding itself, I'm deeply aware that sport can play a significant role in helping to restore hope and normality to communities that were torn apart by the earthquake and tsunami.
"And I think it will be a great race for everyone. In the last few races, I think we've shown that we have extremely good pace and that we've been the team most able to take the fight to Red Bull. On paper, I think it's a circuit that will suit the Red Bulls, particularly in the high-speed sweeps that make up the first sector of the track, but I certainly don't think people should under-estimate our package.
"We showed at Spa that we have a car that's very effective in high-speed corners. We've also improved our straight-line speed and we have a more efficient rear-wing for qualifying, so I think we're feeling positive about the weekend.
"For everyone who follows Formula 1, I hope we can put on a great race to bring further strength to the people of Japan. And to everyone in Japan, I say: ganbatte!"
Martin Whitmarsh
Team principal, Vodafone McLaren Mercedes
"Taking the long journey to Suzuka always reinforces the notion that we're headed into the closing stages of the season.
"While there remains a mathematical, albeit slim, chance of Jenson securing the world championship, we realistically go into these last races with an undimmed resolution to win, and to ensure the world championship remains interesting, exciting and unpredictable for as long as possible!
"To that end, we're still pushing ahead with the development of key areas of the MP4-26 – in particular, we're focusing on areas where there will be significant carry-over of performance and learning into 2012. With the 26, the key areas of overlap development are the front and rear wings: any downforce we find this year can be carried over to the MP4-27.
"Encouragingly, we were able to successfully track-test our latest iteration of rear wing in Singapore, it proving sufficiently positive during Friday practice that it was deployed on both cars for the remainder of the race weekend. While there will be an inevitable shift of focus and deployment towards the new car, we still have enough momentum within the development system to ensure that we'll still be introducing new parts through until the last few races of the season.
"Finally, McLaren has plenty of history in Japan – we've witnessed some incredible and unpredictable scenes involving our cars and drivers at both Suzuka and Fuji down the years – and, as a team, we're all particularly proud to be going to Japan this year to play a sporting role in the redevelopment of a country that has endured terrible hardships and deprivation in 2011.
"It goes without saying that we will all be racing with the people of Japan in our hearts and minds next weekend."
June 9, 2011
Jarno Trulli Team Lotus Monaco 2011
Jarno Trulli, Lotus
2010 Qualifying – 20th, 2010 Race – DNF
"Monaco was really busy but the final result was great for the whole team. I enjoyed myself on track and I think the performances we've put in there and in Spain show that we are progressing in exactly the right direction. Since then I've taken some time off before heading to Canada which has always been a bit of a strange one for me.
"I love Canada and especially Montreal – the track itself is great, a real challenge, the people are very welcoming and the city is that cool mix of Europe and North America, but the race itself has always been a tough one for me! I don't know if it's a luck thing but while I've had strong races there in the past I've always suffered with luck.
"Last year was a DNF so I really want that to change this year. As it's a temporary circuit the first challenge is dealing with the track surface. It improves throughout the weekend but with the constant threat of the walls it's critical not to make any mistakes and experience usually counts around there.
"It's a very quick lap and one of the toughest tracks of the season on the brakes, so cooling and stability under braking both play a big role, particularly in the race. It'll be interesting to see how the tyre strategies play out over the weekend and I think it'll be another great race, hopefully for us as well!"
Heikki Kovalainen, Lotus
2010 Qualifying – 19th, 2010 Race – 16th#
"Canada is one of the highlights of the whole season and I know everyone in the team is looking forward to getting out there. It's obviously not the same intensity as Monaco when you're away from the track, but the whole city buzzes when we're in town and they get behind the whole event right across the city so there's an amazing atmosphere wherever you go.
"The crowd are also very knowledgeable and you can see what it means to them when the race takes place in their back yard as it's packed from Thursday right through to Sunday. On track it's a good challenge. It's hard on the brakes and you need to be really precise in the braking zones to nail a quick lap.
"Another key is to use the kerbs as much as you can and as efficiently as possible – you can make up good time if you have a car that's set up to ride them well so that will be one of the key goals for the practice sessions. On the car I think we'll be looking to repeat the performance we showed in Spain.
"Monaco was an odd race for me – I couldn't get the best out of the tyres and even though there was more to come from the car we just couldn't hook it all up in the race. However, now we have so much more data on the car we can get much closer to maximising its potential and Canada's a good place to do our best to achieve that."
June 7, 2011
Fernando Alonso Monaco 2011
Pat Fry, Ferrari's Technical Director, is looking for improvements in performance in canada: "I think you need to look at the nature of the tracks and the tyres that are there. Barcelona is a very challenging track. Downforce is key there along with car balance, and you need to generate good tyre temperature.
"Trying to make the hard tyres work is quite difficult and, if you look at some of the smaller teams, they could not get the hard tyre working at all, so you have quite a large spread of the speed of various cars and that grows as the tyres get harder.
"We had a few issues that we were working on last week and we now understand. They were giving us particular issues that exaggerated the problems that people have on the hard tyre, and hopefully we have an understanding of it now, and we have been working on fixing it.
"It is a normal constant stream of updates, and there are a few different parts coming through – a few little bits on the diffuser and a few bits on the rear wing. A reasonable performance step hopefully, if everything goes to plan.
"Hopefully we are still closing the gap to the other teams. There has not been a lot of time between Monaco and Canada, but the nature of the tracks are relatively different in terms of what you need for aero, so we have specific rear wings for those circuits and it is the normal push to get downforce on the car.
"I think it is certainly going to be a challenging race. It is a bit like Monaco I suppose, where it is all about traction and braking. The braking is always a challenge there compared to Monaco. The traction and how cars uses tyres at corner exit will be key for how the rear tyres wear out.
"It is the same two compounds as it has been in the past but, if anything, I think it will be slightly less trouble than last year because the compounds are a bit harder."
June 1, 2011
Nico Rosberg Mercedes W02
Nico Rosberg was very frustrated with his performance at Monaco: "The weekend started really well in practice, fully on it. Everything was looking good but then on Saturday I made a really stupid mistake. One of those mistakes that shouldn't happen, can't happen and will not happen again.
"I'm sure there will be better days. Montreal, we'll be right back up there I'm convinced. We'll just forget about Monaco and learn what we can. I totally destroyed the car, and that's horrible. Standing there in the middle of the track, red flag, looking at my car just before qualifying and there was nothing left on the car. No corners. Everything was gone. The whole weekend, I thought it was over.
"Then a miracle. The team did an amazing job. Even Michael's mechanics were on my car. It was just absolute mayhem and they put it together, unbelievably, in 97 minutes. Even at the beginning of qualifying there were still some missing parts, and 10 minutes later it was ready to go and off I went.
"Not my greatest day. With everything together, an absolute weekend to forget. I was supposed to be on the podium in the Monaco GP and I finished in 11th place. I'm sure there will be better days.
"Montreal, we'll be right back up there I'm convinced. We'll just forget about Monaco and learn what we can. I had said in Barcelona I was going to be attacking in Monaco and was going to be right up there, and that's how I went into the weekend – I was convinced I was going to be on the podium but it didn't quite go that way."
June 1, 2011
Schumacher and Button Entering Casino Square
Tonio Liuzzi, Nico Rosberg and Sergio Perez crashed exiting the tunnel this year; Sergio Perez suffering concussion after a very heavy side impact with the crash barrier. When asked about his crash Tonio Liuzzi commented: "There was a mix of reasons. The tyres were reacting differently compared to last year's Bridgestones, the balance of the car was difficult to find and the tarmac had got a bit worse this year.
"These problems are exacerbated for a small team like us because we don't have as much downforce on the car and it's not as pinned to the ground. As for changes to the circuit next year, it's something that has already been discussed in a meeting and I think we will do something but Monaco is one of our favourite circuits because of the way it is and I'm sure it will still be good whatever they do next year.
"Either way we always love to go racing there."
Eddie Jordan, former owner of Jordan Grand Prix, gave his views:  "It's probably a combination of things the new aerodynamics, the tyres, the asphalt. It's always been a tricky place. The FIA is required to protect the driver to the best of their ability.
"It has done a lot since then [1994] and it's doing its best. After Rosberg's crash they took away the kerbs. The place where Perez crashed is protected with special cushioning, but it needs to be considered now what more can be done."
Martin Brundle, former Formula 1 driver and television commentator believes that action will be taken: "I'm sure they will need to make changes yet again to the tunnel exit chicane run off area, but Monaco will remain one of the greatest sporting challenges and that means it will remain dangerous too."
McLaren driver, Jenson Button hopes that it can be made safer: "It's a tricky corner and it's an area where it's very difficult to do anything about in terms of safety because it is what it is. It's Monaco, a street circuit, but I still think we need to look further as to what we can do with the run off there."
Nico Rosberg narrowly missed the crash barrier when he exited the tunnel after crashing into the wall: "I was very fortunate this morning that I completely missed that barrier. That barrier has been there for a long time and a lot of things have happened there.
"Maybe it's time to reconsider because it should be pretty easy to get it out of the way and move it back 50 meters or something. I think it may be time to do that. Monaco is generally a dangerous track. It's because you have a very high speed and you jump.
" As you start braking you jump in the braking zone, and that's a bit of a concern obviously."
May 31, 2011
Sergio Perez is recovering well from concussion after crashing heavily exiting the tunnel whilst qualifying for the Monaco Grand Prix on Saturday. "I feel okay. I have little bit of pain in my leg and in my neck, but this comes from muscles and is nothing to worry about.
"On Sunday I still felt a bit dizzy but that is all. Thank God I'm healthy and I'm looking forward to being back in the car soon. They treated me very well in the hospital. I want to thank the staff for this, and also want to thank everyone else who was worrying about me – the people from the team who came to see me and other visitors as well.
"My family has also been with me. I want to say thank you for all the messages I received. I'm very grateful for all the support and feel sorry for not having replied to all of the messages. There were so many and my phone very quickly ran out of battery.
"I'm pretty sure I will be driving in Montreal. I remember how I started Q3 and I also remember some of the accident. For the time being I am missing some memories about what happened after the first impact and the rescue procedures.
"I don't really know what caused the accident. My race engineer told me there was no problem with the car. I can only guess that I might have been a bit off-line or braked on a bump."
May 30, 2011
Pirelli P Zero
Paul Hembery, Pirelli's director of motorsport doesn't want teams to be able to change tyres during a red flag period as happened at last weekend's Monaco Grand prix and prevented a thrilling finish. "I can understand there is a safety consideration but I am thinking about it more from a fans' perspective to be honest.
"I've had a lot of people shout at me from the boats around the harbour and say, why were they allowed to change? It took away something from the race – and the big question was could they have lasted?
"That is what we were all asking with six laps to go and that was going to be the excitement: would Sebastian hit the [tyre degradation] cliff?
"We don't really understand the rule, and maybe we need to ask the teams why they think they should be allowed to change tyres. The race distance was still the race distance, it wasn't extended. The cars had stopped and there had been a safety car anyway.
"I don't really understand why they are allowed to change tyres, but maybe I am missing something. Overtaking is at a premium here, so having the strategic element and such varied strategies, one, two or three stops, gave it an extra bit of intrigue.
"I think it was a bit of a shame with the red flag of course, because if they hadn't changed the tyres, then they would have had to fight to the end as they were all on different strategies, and the tyre wear and life was very different.
"It is such a shame we were not able to see the finale of the strategy game that had been played."
May 30, 2011
Lewis Hamilton
Lewis Hamilton was very frustrated at the end of the Monaco Grand Prix after his qualifying time on Saturday was cancelled because he drove through a chicane and then he received two penalties during the race for running into the Ferrari of Felipe Massa and the Williams of Pastor Maldonado.
"Out of six races, I've been to the stewards five times. It's a joke. It's an absolute frickin' joke. I went up the inside of Maldonado and you can see on the screen that he turned in a good car length too early to stop me overtaking him and he crashed into me. It's just ridiculous. These drivers are absolutely frickin' ridiculous. Just stupid."
He then, jokingly, suggested that the reason that the stewards had been looking at his driving style was: "Maybe it's because I'm black. That's what Ali G says. I don't know."
Former three-times  Formula 1 World Champion, Sir Jackie Stewart commented: "I think both were questionable – and he was lucky to get off without any front wing damage in the final incident.
"You make your own luck and you create your own situations, but the key is that you should not put yourself in a position where the other driver can retaliate in a fashion that will be negative to you, or will be seen by the stewards as negative.
"You also have to listen to the stewards, because there has been a big improvement in having a driver [on the stewards' panel]. Allan McNish is a very experienced driver so if that is their opinion you have got to go with it.
"When you are a driver, you don't see if from the other side. They get all the angles. They get the videos, and they can sit up there and get all the replays so they analyse it even better than the man in the cockpit.
"If there is a degree of unfairness and it is really obvious then you appeal – and you make suggestions to the governing body of what might be better done to ensure that there is no penalty or loss to the person involved but you also have still got to keep in mind that you are very exposed.
"Your own car is likely to be damaged in incidents in a big way, and I actually said I thought there would be a question mark when they happened."
McLaren's Team Principal, Martin Whitmarsh commented: "Immediately after the race he was very down, and during a post-race TV interview he made a poor joke about his penalties that referenced Ali G.
"However, I'm pleased to say that he chose to return to the track a little while later to speak to the stewards about the joke. They accepted his explanation. Lewis had a frustrating afternoon.
"I guess the reality is that, if you start anywhere other than at the front of the grid here in Monte Carlo, you're always going to run the risk of getting involved in incidents – especially if, like Lewis, you're a forceful driver who never, ever, gives up but that's Lewis.
"That's why he's such a fantastic driver – and that's why watching him race is so thrilling. So, yes, he's disappointed, because he's been seriously quick all weekend here, but that's Monte Carlo; that's racing; that's life."
May 29, 2011
Sunday 29 May 2011
"WE TOOK THE RISK AND GOT THE REWARD…"
Car 1 SEBASTIAN VETTEL, Finish Position: WINNER Start Position: POLE POSITION
"It's difficult to describe today; it's a great feeling. I've seen what it takes to win here. Today it was a crazy race. It's difficult to imagine you can one-stop at this race, but that's more or less what we did.
"Our first pit stop was not spot on and we lost the position to Jenson. I was surprised when Jenson came in and we had to react, he was pulling away on the soft tyres while I was on the hard tyres. I thought 'don't give up' and kept pushing to close the gap.
"The safety car helped us, but it was no walk in the park to do roughly 60 laps on the same set of tyres – our estimation was not allowing that! We took a lot of risks, but that made today's win even sweeter. Towards the end of the race the tyres I had were nowhere close to fresh – but I saw the only way to win the race was to stay out.
"I had 20 laps where I was under pressure from Fernando and Jenson, it would have been a difficult final six laps, but there was another safety car and a suspended race, so we were able to change the tyres. I'm extremely happy.
"At some stage I was in P2 and 15 seconds behind Jenson, so victory seemed far away, but it's a crazy place here. I think the roulette was spun last night and kept on spinning during this race. I'm really, really happy. A fantastic result and a huge honour to put my name on the list of Monaco race winners.
"We fully deserved this win, we took the risk and we got the reward."
Car 2 MARK WEBBER, Finish Position: 4th, Start Position: 2nd
"We didn't really go long enough on the first stint, which is normal for me on these tyres, so that compromised me. When I arrived in the pits we didn't have any tyres out, I arrived and sat there, but the boys were still getting them ready.
"There was a radio communication problem within the team and so they weren't properly prepared. When you wait here, you lose track position and you have to wait behind people, so it was not bad to get fourth from there. I don't know why we restarted the race when there were only five laps left – but that was the decision and it turned out okay. I hope Vitaly (Petrov) is okay."
CHRISTIAN HORNER, Team Principal:
"A phenomenal drive by Sebastian today. We had a communication problem with the first stop, which affected both drivers as they were both stopping on the same lap. It delayed Sebastian, but we managed to re-adjust our strategy. We didn't panic and managed to engineer ourselves out of the situation to get him back into the lead. He then had an awfully long way to go on the harder tyre, which he made work.
"He soaked up huge pressure from Fernando and Jenson and then our hearts were in our mouths when the accident happened just in front of him. But he picked his way through that and, with the benefit of the option tyre, was able to have a bit more comfort in the remaining laps after the re-start.
"It was a classy drive from Sebastian today and a tremendous team performance to recover from what looked to be a difficult first stop to win the race. At one stage Mark was 15th after the first round of stops, but he never gave up and kept on pushing through.
"He pulled a great move on Kobayashi on the last couple of laps who's not an easy guy to pass and it was a shame not to have him on the podium today, as he deserved to be there."
CYRIL DUMONT, Renault:
"Once again it was a really good result for Sebastian and it could be worse for the start of the season – five out of six wins! I don't know where we have to go back to, to see these kind of results.
"Regarding Mark, it was a bit chaotic in the first pit stop, but it was a great recovery and nice to see him finish fourth. It's hard to overtake on this track, but he did it.
"Overall we had a great result this weekend, we scored more points than our opponents and it's a great start to the season."
May 29, 2011
TEAM LOTUS MONACO GRAND PRIX 2011
CAPPING OFF A GREAT WEEK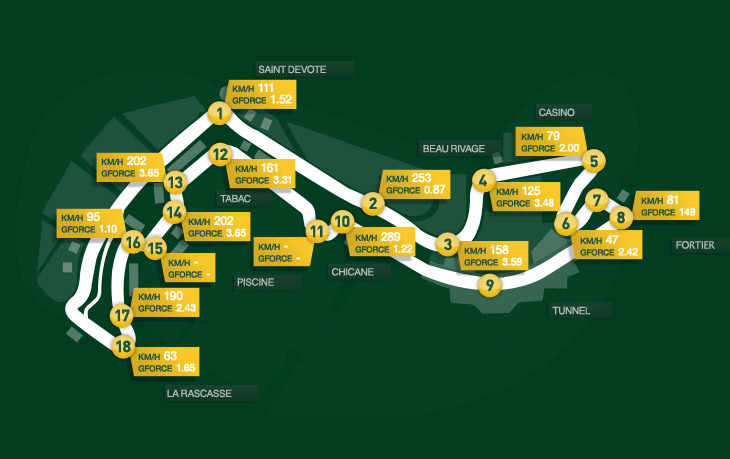 Team Lotus Information
Total number of @myteamlotus tweets (@ 1600 on Monaco race day)
5,718
Typical speed of an F1 car through the Loews Hairpin
47 kph
Number of stacked Ruroc pitcrew helmets equivalent
to the height of The Eiffel Tower
1,350
Weather
Dry, sunny
Max air temperature: 22˚
Min / max track temperature: 42˚
Fastest laps
KOV 1.20.678 (lap 54) / TRU 1.21.277 (lap 66)
Runplan
Driver: Jarno Trulli
Chassis: T128-03
1330:             Car leaves for grid / 1 lap
1345:             Pitlane closes
1359:             Fire up
1401:             Lights out – start on option tyres
Lap 24:          Pitstop 1 – option tyres
Lap 46:          Pitstop 2 – prime tyres
Finished:       13th
Runplan
Driver: Heikki Kovalainen
Chassis: T128-04
1330:             Car leaves for grid / 1 lap
1345:             Pitlane closes
1359:             Fire up
1401:             Lights out – start on option tyres
Lap 19:          Pitstop 1 – prime tyres
Lap 52:          Pitstop 2 – prime tyres
Finished:       14th
Jarno Trulli, Car 21 – Chassis T128-03:
"That was a great result for the team, the best of the season so we're all pleased with that. I had another great start – I wish I had made starts like that in previous seasons as I think I would have won several races with starts like that.
"After that I was holding position and keeping up with the cars ahead but the safety car hit our race strategy hard. The gap we had was wasted behind slower cars and even though I passed D'Ambrosio the second safety car pretty much defined the rest of the race."
Heikki Kovalainen, Car 20 – Chassis T128-04:
"Finishing 13th and 14th is a very good team result, but that was a bit of an average race for me. I lost a position at the start and that was pretty much the end of my race.
"The first stint was pretty difficult and on the second stint I couldn't really find a rhythm as I kept having to let cars past. After the second stop I was able to start pushing but by then I couldn't really do much. Having said that, it's been a good weekend overall and we'll keep fighting in two weeks time in Montreal."
Thierry Salvi, Renault Sport F1 Support Leader:
"I think that is a very good result for us, the best finish of the year for both cars. The car setup and strategy was good for both drivers and we are very satisfied with what we have achieved this weekend."
Mike Gascoyne, Chief Technical Officer:
"A strong result for the team and it was good to get both cars over the finish line. Both drivers drove very strong races and we gave them a chance to fight with a two stop strategy, starting both cars on options.
"We switched Heikki to the prime for the last two stints because he had higher degradation but kept Jarno on the options until the second pitstop and even thought they were held up by slower cars we are very pleased with 13th and 14th."
Tony Fernandes, Team Principal:
"I watched the race from Bali and that capped off an incredible week for us. This time last year neither car finished the race but today both cars crossed the line in 13th and 14th places.
"Our pace was good but most importantly both cars finished the race, we brought the Team Lotus brand home and we won the first of the GP2 races in Monaco. That constitutes a very good weeks work at the office.
"Now we go to Montreal and as we keep moving forwards to the rest of our history, our heritage and our destiny with Caterham. Thank you all for one hell of a ride."