September 26, 2011
| | |
| --- | --- |
| | SINGAPORE GRAND PRIX 2011 |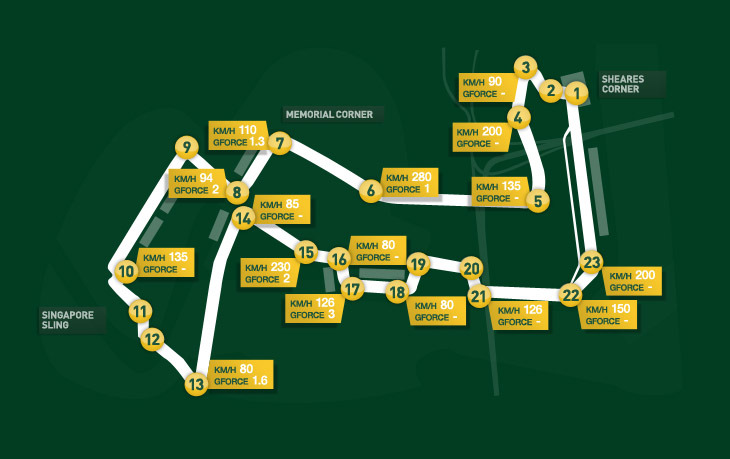 Team Lotus Information
Number of GE employees worldwide
> 300,000
Power to weight ratio of Caterham Seven R500
513 bhp / ton
Global page views on CNN.com in May 2011
1.6 billion
Weather
  Dry
Min / max air temp: 31˚ / 32˚
Min / max track temperature: 33˚  / / 35˚
Runplan
Driver: Jarno Trulli
Chassis: T128-01
  1930: Car leaves for grid / 1 lap
1945: Pitlane closes
1959: Fire up
2001: Lights out
Lap 17: Pitstop 1
Lap 20: Pitstop 2 (puncture)
Lap 45: Pitstop 3
Lap 48: Retired – gearbox issue
Runplan
Driver: Heikki Kovalainen
Chassis: T128-04
  1931: Car leaves for grid / 1 lap
1945: Pitlane closes
1959: Fire up
2001: Lights out
Lap 12: Pitstop 1
Lap 28: Pitstop 2
Lap 48: Pitstop 3
Finished 16th
Heikki Kovalainen, Car 20 – Chassis T128-04: "I'm really pleased with the performance today and we should all be happy as it was a great race from the whole team. The pitstop strategy worked out well for us and the boys worked brilliantly to get me out quickly each time, helping me make sure I could stay ahead of Petrov at each stop.
"The car felt balanced throughout the whole race and the tyres worked well so I was able to pull away from Petrov and ended up finishing strongly in 16th. It's also good that the upgrade we've brought here has helped us take a small step forward and I think we'll see more from that in Suzuka where it will come more into its own. After a race like today I can't wait to get back in the car, so we leave Singapore feeling pretty good about the last few races of the season."
Jarno Trulli, Car 21 – Chassis T128-01: "I had another really good start and was ahead of both Renaults and the Toro Rosso. They were pushing me but the car felt great and I was able to keep ahead of them pretty comfortably, coming out of the first stop still ahead and feeling good on the second set of tyres.
"Then Jaime hit my left rear and I had to come which was pretty disappointing – it's just bad luck really, but that meant I had to try and fight back which I did my best to do until the gearbox problem meant I had to pull over. I'm pleased for the team that we were able to fight from the start and I think it's a good sign that we could do so well in the race, but now we move on to Japan and I hope we can keep pushing on there."
Thierry Salvi, Renault Sport F1 Support Leader: "I think we can be pleased with how we Heikki finished but again the luck was not with Jarno. Another good start put him in a very good position early on and even after his first pitstop he was still in good shape.
"After that the puncture meant he had to give up the positions he had won at the start which is obviously very bad luck but it was fortunate that Heikki was able to push throughout the whole race and finish in front of the Renault. I think that is a good car and it shows that our car is getting better and better. Engine wise it was all ok for us. We managed the temperatures the pressures well and had no issues on either car so I think we can be pretty happy with how it ended."
May 18, 2011
Lotus Renault R31
Nick Heidfeld, Renault
2010 Qualifying – n/a, 2010 Race – n/a
"We will be bringing some more new parts, which will help us improve our performance. This is all part of our ongoing aggressive development strategy. Also, we will get into the swing of things quickly because the whole team knows the circuit well, and teams using a simulator won't have such an advantage here. Over the years I have enjoyed some good races in Spain – it's a challenging track and it will be interesting to return. I have got many memories – one that I particularly remember is a pit-lane battle with Jenson (Button) when we were both exiting at the same time, both at the highest speed limit you are allowed and I think I just got out ahead of him."
Vitaly Petrov, Renault
2010 Qualifying – 14th, 2010 Race – 11th
"I've been at this track many times before, and I have a lot of experience of racing here in GP2 and F3000 when I won some podiums. I've also driven here in Formula One, and of course the testing earlier this year. However, the weather then (during testing) was quite cold so the preparation this time around will be different. It's going to be an interesting weekend because everyone knows this track quite well, so it will be a close fight and the lap time gaps will be quite small."
Eric Boullier, Renault team principal
"Since we last drove there in testing, we have added upgrades to the car so we will be performing better than in the winter. The situation is also different: it is a race weekend and the way we approach this is different from testing. We hope to make another step forward to fight again for the top six. I think that with the DRS, anything is possible. Mainly because of the tyre degradation, there is a need for some aggressive strategies that allow overtaking on track and of course a very good race finish too."
May 3, 2011
Lotus Renault R31
Eric Boullier, Team Principal at Renault is looking for an increase in performance in Istanbul: "We have a good upgrade package coming for Turkey. I think that historically the teams were preparing to introduce their development packages for Europe, but I think that in the last couple of years the development race is continuous and this competition has already started.
"Teams have already been bringing new packages in Malaysia and China. Still, the first race in Europe remains significant in terms of improvements that teams will bring and this will be clear again this year.
"I think that they (the drivers) can do even better. During the last three races, they were still getting to know the car and they showed good pace and results.
"I'm pretty sure that they now have the near-to-victory taste in their mouths so they need to keep on pushing. I know the team is absolutely 100% behind both of them to help pushing them to deliver."
James Allison, Renault's Technical Director commented: "It's a fairly regular type of track, not especially dissimilar to Malaysia and China. I would hope that we can continue compete at a high level.
"The car is sufficiently fast to be healthily-placed in the top ten in qualifying, which gives you half a chance come Sunday. The car also quite kind on its tyres and so it tends to run more strongly in races than it does in qualifying.
"I don't want to tempt providence, but it has also been reasonably reliable so far."
April 30, 2011
Lotus Renault R31
Nick Heidfeld isn't happy with artificial aids to assist overtaking: "Well, like with everything, the more you use it the easier it gets but we're still working on getting the perfect switch positions which we should have ready for Turkey. I think it's all working fine and going to plan, even though I'm not a fan of the rear wing because I don't particularly like things which artificially aim to improve racing.
"The biggest difference is the tyres. With the rear wing active and the car in front having similar tyres, overtaking might still be difficult which is exactly as what was planned with DRS, however if you have fresher tyres it might be much easier to overtake.
"I think we've seen far more overtaking than in the past.
"Everything has gone so fast since February, which means that it's been a very quick learning process. I joined the team for most of the winter tests and then went straight to the first race.
"It's an ongoing challenge to have everything working perfectly at once but having said this, I'm impressed by the quality of the relationship we've built up over just a few weeks.
"People at Lotus Renault GP really want the driver to feel comfortable in the car and they give you a lot of confidence. They've really listened, as have I, and this has helped us develop constructively as a team. Above all, I'm really enjoying this open, two-way approach that we have."
"I think we've shown over the first three races that we have a good car and Istanbul could be very interesting because it is the first European race and a lot of teams will bring updates, including us," he said. Hopefully we'll be able to give a good performance again."
April 29, 2011
Lotus Renault R31
Nick Heidfeld believes that the Lotus Renault has more to give: "It's been a bit up and down. On the positive side, the car is very innovative and it is quick. It is also responding well to set-up changes, it has got a good straight-line speed and has already proved to be competitive on different track layouts.
"We've already achieved two podiums from three races, which is a real plus but on the other side, we haven't yet fulfilled our potential and I hope both we, as a team, and I can improve on that. The first three races gave us a good picture of our strengths and weaknesses, and with the break we've just had we've been able to analyse where we can improve further.
"I think we've shown over the first three races that we have a good car and Istanbul could be very interesting because it is the first European race and a lot of teams will bring updates, including us. Hopefully we'll be able to give a good performance again.
His team mate, Vitali Petrov ramains confident: "We're expecting upgrades for Turkey which is good, and of course the other teams will react too and work hard to beat us. We'll be doubling our efforts in order to catch the teams in front. You never know what can happen during a race weekend but both my team and I will fight hard."
Eric Boullier, the Team Principal, is looking for victory: "I think that they can do even better. During the last three races, they were still getting to know the car and they showed good pace and results. I'm pretty sure that they now have the near-to-victory taste in their mouths so they need to keep on pushing. I know the team is absolutely 100% behind both of them to help pushing them to deliver."
April 26, 2011
Lotus Renault R31
Eric Boullier, Lotus Renault's Team Principal,  knows that the car has pace but needs reliability. "If you look at Q2, Vitaly's pace showed where we should have been. If we have this pace, then we need to have perfect weekends.
"We cannot afford to have any bad weekends and definitely to have a perfect weekend we need to be ready to cope with everything.
"If you want to play with the big boys, then we have to be there and we have to run perfectly. Let's say we took it wrong from the beginning. We just couldn't do it. I don't want to upset the guys obviously, but we had a couple of things wrong that definitely we have not been able to handle or react to accordingly.
"Vitaly's engine problem was not our fault obviously, but we could have clearly briefed our drivers on how to get rid of this but that was not done.
"That incident affected Heidfeld's qualifying, and it was a snowball effect from then on. Everything was going wrong, and during the race it was the same. Starting 10th and 16th we could have maybe been a bit more aggressive on the strategy.
"There is clearly something to investigate in the way Rosberg did it for example, because he was six seconds off Button before pitting and then when everybody pitted he was five seconds ahead of everybody.
"Then you look at Hamilton, with his strategy, to save one set of tyres as he did was brave. As soon as you pit, you can gain an advantage of five to eight seconds over your competitors, and that changes a lot the position on track.
"So if you are clear ahead and have clear laps, then you just pull away because the traffic is not affecting your pace. Our people are very good on strategy, but I think with the Pirelli degradation we just need to handle the weekend differently.
"It's the famous rear wing. For us, with three weeks to go, we should have a good upgrade on the car but everyone will be the same.
"We definitely would like to keep our position and fighting for fifth or sixth place. That would be a good step."
March 31, 2011
Lotus Renault R31
Vitaly Petrov scored a very impressive third place for Lotus Renault at the Australian Grand Prix in Melbourne on Sunday. He commented: "At the start I was catching Mark Webber then he pitted and I had to push as much as I could.
"In the middle of the race my radio wasn't working very well so I just tried to push as hard as I can and everything was good. I had to pull away from Fernando but it was not so much pressure. He was still quite far away from me and I could pull away at the last corner.
"I'm very proud. The result is for all of us and I'm totally ecstatic."
Eric Boullier, the team principal, was justifiably proud  of Petrov's performance and his mental approach to the race. "We work all the winter for him to learn and understand how to avoid this lack of concentration. "His relationship with the team is much better. He now understands he needs to compose his driving so he has taken a major step.
"He was nowhere a year ago, not zero, but F1 is a challenge. He is now a guy who clearly has his place in F1. Vitaly did a great job and it was good for the team because they had a very good winter.
"He made some good progress but knowing the pace of Robert, whether he could have been better or worse, I don't want to think of it."
March 23, 2011
Nick Heidfeld commented: "I always enjoy coming to Australia. It's my favourite place to travel to on the calendar because the people are relaxed and there's always a warm atmosphere. I think we have a quick car, but like every team on the grid we have had a few issues to cope with during the tests, especially in terms of reliability.
"We have an idea of where we stand, but nobody knows exactly. I think we have good performance in the car and everything is working well. I hope we can fight for podiums from the start of the season."
His team mate Vitaly Petrov stated: "It's a good place to start the year. The fans are crazy about F1, the grandstands are full and it's clear that the country loves the race. I feel much better prepared. I have experience, I know the team very well and I understand more about Formula One.
"
Lotus Renault R31
The R31 is certainly a big step forward. I think our solutions are good and I believe we can be competitive. The guys have down a great car with this car. It's strong, aggressive and innovative. We believe we are closer to the front than we were last season."
Lotus Renault's Team Principal, Eric Boullier, was feeling very positive: "I feel excited. We had a tough winter with a lot of unfortunate and unexpected news but we have reacted quickly and we are ready for the season. We have done an enormous amount of work over the last few weeks to really understand this car and get the performance from it.
"What I can say is that we are clearly in better shape in terms of ultimate performance compared to last year, which was our target. The R31 is very different from anything the team has produced before and we're very proud of that."
Technical Director, James Allison agreed: "I'm pleased that we achieved what we set out to achieve, which was to assess all the new elements of the car and get through the pre-season test programme. But I won't be fully content until we've actually demonstrated in racing conditions that everything is working properly, the car is reliable and we get to the flag showing good pace."
March 17, 2011
Petrov in 2010
Vitaly Petrov had an unconventional start to his Formula 1 career. "The problem at the start of my career was that my father had zero knowledge of motorsport and I had zero knowledge. My father knew something about the boxing and football maybe, but not about racing. I suppose he knew how to do a handbrake turn . He taught me that when I was young but that was about it.
"In Russia we don't have tracks, we don't have F1 teams or people, so we had to start with touring cars in the snow and in rally sprints, that kind of thing. I never even thought about it.
"In my town we didn't even know what Formula One was, so I was never even thinking about it. I only started to watch it in 2002 or 2003. We tried Le Mans, F3000, GP2, so I was everywhere trying everything just to get experience and drive on the circuits.
"Of course it would have been easier if we had someone who could have planned it out for us over five years to take a more straightforward route to F1. At least now if I have a son I will know what to do with him. If he wants to be a racing I would know how to help him."
"When you come to Formula One it is difficult to be consistent and you make mistakes. You have a lot of things to think about and change on the steering wheel, and sometimes it's really easy to forget about your driving style.
"You might just touch a white line that's very slippery, which normally I would never do, and then you've crashed or spun. You need to be always focussed on F1 and remember these things and last year it was just very difficult for me to do that all the time."
"Now I can remember all the faces in my team, but seriously, I know much more. I know how Formula One works and how to move forward and improve. When I don't like something I know who I need to talk to to work on it. I know the tracks and I feel more experienced physically with the driving and mentally, so of course it is a big step forwards.
March 6, 2011
Pirelli P Zero
Lewis Hamilton feels that the new tyre compounds make the cars too slow. "There is more to think about in the car but Formula One does seem to have slowed down. The cars are slower on a race distance.
"Last year we had to make tyres last with heavier fuel load and now it's even slower. I did run the other day and it was painfully slow, it really was. Just not exciting, to be honest. The first run, I didn't think I was pushing very hard and the tyres were finished after nine laps, down to the canvas. On the next run, I had to go easier. It was almost like doing an out lap and just about made it to 15 or 16 on a soft tyre.
"Over the years you have to change your style and adapt, while keeping the important part, which is the speed and aggression. Now the biggest step is how we are going to have to look after the tyres. You'll see it's going to be just as competitive this year, if not more. The regs are bringing the teams closer, making it more competitive, but not as hard-core competitive.
"In 2007 and 2008, the teams were so quick and pushing each other so fast at the front. They've now slowed down the cars a little, it's maybe a more even playing field."
Jenson Button believes that the opposition will be very strong again this year, especially Ferrari. "They have been reliable. They were doing 140 laps a day and a couple of days we did 55, big difference.
"They are in a great position. I don't really know how quick they are. I know Fernando did his quick lap on a supersoft tyre in Barcelona. We didn't have one. You can look at their long runs and say they are consistent and so they must have downforce. They look strong.
"Red Bulls are the same as last winter. They didn't look amazingly strong and got to first race and were massively quick. Then you have a gaggle of cars. The Toro Rossos look very competitive, they have done a great job, the Renault is a step behind that, even Force India. There are a lot of quick cars out there."