May 16, 2011
Nico Rosberg – Mercedes W01
Ros Brawn is looking to maintain the cars' pace consistently. "The last two races in Turkey and China have proved that we can be quick in certain conditions, but we need to focus on achieving that level of performance consistently over the entire race weekend.
"We will have an aerodynamic development package for the Spanish Grand Prix, along with refinements to our suspension package, which should help to find the consistency in the car that we are looking for.
"The Circuit de Catalunya is such a familiar venue to the teams that we should be able to maximise our practice time to focus on this, and I hope to see another step forward and a positive weekend."
Nico Rosberg believes that Mercedes is now  serious contender. "Our upward trend is clear for all to see, even though we still have a little more progress to make in race configuration compared to qualifying.
"I'm looking forward to Barcelona, where we will also be introducing an update package for the car, and I'm excited to see how it works.
"We showed a good level of performance at the final winter test on this circuit, and hopefully we can translate that into a strong result this weekend."
Michael Schumacher, however, has not had the return to Formula 1 that he had hoped for, and many of his followers expected, being overshadowed by his younger team mate.  "While I was not happy with my weekend in Turkey, there have been clear signs of improvements for us as a team, which obviously push and re-boost my motivation even more.
"It's more than encouraging to see that the hard work of the team is starting to pay off. We are all determined to make progress."
May 14, 2011
Sebastian Vettel – Red Bull RB6
Sebastian Vettel is not over confident even though he has won three of the first four races. "I think the day you start to think you are unbeatable is the day you get beaten. There is always someone at some point who will teach you a lesson and beat you.
"We are racing at the highest level. Of course I'm very happy with today and with the start of the season, and I'm very happy with how we work together as a team and pull together in one direction, but there is never time to relax.
"Okay we've had four races now, but every single team has had their highs and lows. I'm very happy because we've been very competitive in all four races. Sometimes it was quite comfortable, like in Australia, but other times it was very close – like on the Saturday in Malaysia we were not sure to beat McLaren in qualifying.
"Yesterday Mercedes were very quick, and I've heard that many teams will bring a lot of updates to Barcelona. That will be the story of the next couple of races – everyone keeps pushing and you have to take everything you can at the time.
"I had a very good start (in Istanbul), which was crucial, and then I was able to pull a gap right in the first stint, which was important because then we could afford to stay out a lap longer, wait to see what the others were doing in terms of strategy and then just react.
"It makes our life a bit easier to find out which strategy works and which doesn't. It was very much in control. I'm very happy with how we communicated during the race and how we reacted so all in all I'm very, very pleased.
"I think since China we have definitely made a step forward, so we have learned our lesson and we have to make sure that we keep this momentum going.
"I have to say that when I walked in on Saturday morning, every little worry was gone immediately because the mechanics and the whole team gave me the impression that nothing happened, nothing's wrong, and we will continue as usual.
"Obviously this helps a lot, because people in the paddock I see from time to time, but I'm working with people in the garage all year long and it means a lot if people that are close to you [reassure you] that there is nothing to worry about and make you feel comfortable."
May 11, 2011
Jarno Trulli Lotus T127
Jarno Trulli believes that qualifying will not be as important as it used to be as teams save sets of new tyres for the race. "Like everything in life, the 2011 changes in F1 have some pros and cons. The pros are more exciting and spectacular races, which the public seem to like. The cons are grands prix that are a bit less comprehensible and, since Istanbul, what I call 'the end of qualifying.'
"For the first time this year we've seen that, once Q3 is reached, instead of trying to snatch pole position off the others like they always do, drivers and teams preferred to make their calculations and just be content.
"The truth is that strategy this year has a more decisive role than usual. Here at Istanbul, for example, the race started before the race itself by saving tyres. As I've always said, everyone's mission at this time is to learn the Pirellis.
"Well, after three races we finally have an initial and reliable measure of the level of tyre degradation so, whoever had the capability and the strength to save a set of tyres on Saturday did just that.
"This thing obviously involved the drivers that made the top ten. As soon as they made the Q2 cut, they started to make their calculations. For many the problem was whether to utilize or not the remaining set of tyres. The ones that got into Q3 by a whisker, the outsiders, didn't even try.
"The top guys set the laptime then stopped. The others, the ones who usually animate the fight, did one try and quit at the first mistake.
"Some feel a formula that worked has been ruined. I don't want to say that. I simply observe that these are the rules and the drivers have adapted to them. "There are pros and cons, I repeat: the pros are better races decided in the last 10-15 laps depending on the strategies and the tyres, while the cons are that qualifying is less spectacular and more tactical."
May 10, 2011
Michael Schumacher – Mercedes W01
Norbert Haug is fully behind his two drivers and the work force. "When success is missing, then criticism is a fact of life. When a seven-time world champion like Michael Schumacher doesn't achieve success, criticism rains down upon him. I understand why. People expect the very highest level of performance from Michael and Mercedes, which is fully in line with our own targets.
"An analysis of Michael's lap times from practice and the race in Istanbul shows that he had good pace. Without the contact on lap two, and the time he subsequently lost having the front wing changed, he was quick enough to finish in sixth or seventh position.
"That speed isn't wishful thinking, it's a fact. With that kind of potential, results will follow of their own accord.
"I can understand that Michael didn't have much fun on Sunday, racing so hard for 12th position knowing that, without his clash, he could have done better. I'm convinced he will have fun in Barcelona.
"We believe in our team, we believe in our drivers and we are working with calm and focus to achieve our targets.
"We started 18 months ago in our new configuration, and we're competing in a very challenging environment. Like every other successful team before us, we need time to learn and develop.
"This process is going in the right way and we've seen Nico start from the second row in both of the last races. The fact that the 14 laps he led in China also currently put him equal second in this ranking, illustrates how dominant Sebastian Vettel in his Red Bull has been so far this year."
May 9, 2011
Fernando Alonso Ferrari F10
Stefano Domenicali, Ferrari's Team Principal, was very relieved when Fernando Alonso secured third place at the Turkish Grand Prix. "It's been a very long time since we last saw one of our drivers on the podium and today, finally, we were able to.
"Fernando drove a very nice race, to crown a great weekend on his part.He did not put a foot wrong and was aggressive when he needed to be and prudent when he had to manage the situation. I am very sorry for Felipe, who had every possibility of also getting a good result.
"We had already seen in the three previous races that, in the race, the 150º Italia seemed to be the more beautiful sister of the one seen on Saturday afternoon in qualifying, but for one reason or another, in the first three Grands Prix, we never managed to make the most of all its potential.
"Today we were competitive for long periods and if Fernando had not been stuck behind Rosberg for a few laps after the start, he could have even put Vettel under more pressure.
"We must definitely not get carried away with this third place. The road is still very long and there is still a very long way to go to where we want to be. At least we have shown that we have started off down the right road."
May 7, 2011
2011 Turkish Grand Prix Qualifying and Final Free Practice Report – 7 May
It was another encouraging afternoon for Force India as Adrian and Paul qualified in P12 and P13 respectively for tomorrow's Turkish Grand Prix at Istanbul Park.
Adrian Sutil (car 14, VJM04/04)
FP3: P13,  1:27.318 (19 laps)
Q1: P7,  1:27.397 (8 laps)
Q2: P12, 1:27.027 (6 laps)
Paul Di Resta (car 15, VJM04/02)
FP3: P16,  1:27.644 (18 laps)
Q1: P12,  1:27.652 (8 laps)
Q2: P13, 1:27.145 (3 laps)
Adrian Sutil (car 14)
It was quite a straightforward session for me with no major issues. I think we used the tyres well, there were no problems with traffic and it was a great team effort. But we should remember that the races so far this year have shown that qualifying is not as important as it used to be and it's more important to have a good car for the race. I'm pretty happy with my set-up for tomorrow and feel more comfortable with the car than I did at the last race. In terms of the tyres, the hard seemed to perform very well yesterday, but the softs are looking good in the higher temperatures so it will be interesting to see how that develops in the race.
Paul Di Resta (car 15)
I think it was another great team performance today and we are roughly where we expected to be. There were no problems in Q1, and in Q2 I only did one run because we thought it would optimise our race strategy and save a set of tyres. I'm happy with my set-up for the race and I think we've sacrificed a bit more today to have a better car tomorrow. Hopefully that will put us in a reasonable position to fight the cars ahead of us and pick up some more points.
Robert Fernley, Deputy Team Principal
A pretty good day overall. Starting in P12 and P13 puts us in a great position to race strongly and hopefully challenge for more points. It was a shame that we just missed out on getting ahead of Barrichello, but ultimately Williams were just a little quicker today. For the race I think we can expect more of what we saw in China with lots of action throughout the field. It will be interesting to see how the tyres hold up, especially with the demands of turn eight, and we know there are some good overtaking opportunities in the lap which should make for some exciting racing.
May 7, 2011
2011 TURKISH GRAND PRIX – QUALIFYING
"DEFINITELY IN THE FIGHT AND PUSHING ALL THE WAY"
Istanbul Park, Saturday May 7
LEWIS HAMILTON
MP4-26A-03
P3
6th 1m26.726s (+0.689s) 14 laps
Qualifying
Q1 4th 1m27.091s (on Primes)
Q2 3rd 1m26.066s (on Options)
Q3 4th overall                1m25.595s (on Options)
"We're starting on the dirty side of the grid – so our biggest challenge tomorrow could be getting off the line. Every year here I've started on the dirty side here!
"Mercedes GP and Ferrari have picked up their pace, and it might be hard to overtake the Mercedes GP because they're very fast on the straights; so if it pans out like that, the Red Bulls could edge away from us.
"We don't have an extra set of [unused] tyres, but you never know what the weather will do tomorrow. We're definitely in the fight and I'll be pushing all the way – just as we did last year.
"So I'll try to get a good start tomorrow – fingers crossed we can gain some places that way. I'm looking forward to driving a strong grand prix – it's a long race here and there should be opportunities to overtake."
JENSON BUTTON
MP4-26A-04
P3
5th 1m26.578s (+0.541s) 17 laps
Qualifying
Q1 6th 1m27.374s (on Primes)
Q2 8th 1m26.485s (on Options)
Q3 6th overall                1m25.982s (on Options)
"Sixth position isn't great, but we can still do well: Mark Webber had a good race from 18th in China, so we can definitely have a good race from sixth.
"Maybe I should have just done a single run for Q3 because my second run wasn't any faster than my first – and you tend to lose time if you push these tyres too hard. But to be honest I couldn't get a really good balance in qualifying.
"It's difficult to know people's overall pace from Friday running because the changeable weather has mixed everything up. I'd hoped for more but we'll see what happens.
"It's a pity that I'm on the dirty side of the track – it might cause a few problems with the getaway into Turn One tomorrow – but we're competitive. We'll be in the running tomorrow."
MARTIN WHITMARSH
Team principal, Vodafone McLaren Mercedes
"Only six cars managed to beat the 1m26s barrier in Q3 here at Istanbul Park today, and I'm glad to say that Lewis and Jenson were both among that sextet.
"It's very tight, very competitive, at the sharp end of the grid this year – and it's worth noting that, had Lewis managed to string together his three best sector times in a single lap, he'd have been second-quickest. As things turned out, he was fourth-quickest, and Jenson was sixth-quickest, but they're both fantastic racers and they'll approach tomorrow's race with all the controlled aggression that we've come to expect from them over the years."
May 6, 2011
2011 Turkish Grand Prix Free Practice 1 & 2 Report – 6 May
FP1 objectives:
Paul –  Evaluation of the new front wing and wet weather set-up work
Nico –  Baseline set-up work and evaluation of wet weather tyres
FP2 objectives:
Paul –  Data collection from prime and option tyres; general dry set-up work
Adrian –  Aero evaluation of the new front wing and tyre compound comparison work
Adrian Sutil (car 14, VJM04/04)
FP1: Did not participate
FP2: P10  1:28.052 (37 laps)
We had the wing to try on my car this afternoon, which was quite interesting, but now we have to look at the data and try to really understand it. At the moment it's too early to say that much. I tried both the hard and the soft tyres and did a long run on each, so I feel quite well prepared. I think the hard tyre was the best and most consistent today, but that could easily change as the track evolves. For the general balance of the car, we will work on trying to improve in the final sector and dial out some of the understeer. However, the car felt very well balanced in the high-speed corners.
Paul Di Resta (car 15, VJM04/02)
FP1: P13  1:43.525  (11 laps)
FP2: P8 1:27.725 (37 laps)
The wet weather session this morning made it difficult to learn much about the new front wing, but it was important for me to get a feel for the track and the wet weather tyres. For the afternoon, the priority was to try and understand the hard and soft tyres: we did two runs on the hard and two runs on the soft, which has given us lots of data to analyse this evening as we plan our approach for tomorrow. Overall I think we've made a good start and the car feels relatively straightforward. There are always things to improve, but I'm happy with my day.
Nico Hülkenberg (car 14, VJM04/04)
FP1: P10  1:41.347  (16 laps)
FP2: Did not participate
It was very wet out there this morning, and this was pretty much the first wet running for everybody on the Pirellis at a race weekend. I spent the whole session on the same set of wet weather tyres and there was quite a lot to learn. Towards the end of the session the rain got heavier and there was more standing water, which meant the car started aquaplaning. But at least we have done some set-up work in case it stays wet for the rest of the weekend.
Dominic Harlow, Circuit Engineering Director
It has been quite a good Friday for the team with our three drivers contributing to the programme.
In the FP1 session the rain made the circuit quite tricky: conditions were in the most part fairly consistent, but at times some standing water built up at turns two and 11 –  this was the case after the red flag. We ran only the wet tyre and worked to find a balance during what was still quite a new experience for us in terms of running on the Pirelli tyres in this weather.
It dried up for the afternoon and, as well as sitting out the morning session, Adrian had to work through an aero test programme, which he did very well. We've now got to focus on the data to understand what we have learnt today. For Paul, after trying the new front wing in the morning, it was more about tyre evaluation this afternoon. Nico, once again provided us with a solid baseline and initial set-up evaluation in the wet.
May 6, 2011
2011 TURKISH GRAND PRIX – FREE PRACTICE

"BOTH DRIVERS' LONG-RUN PACE LOOKS EXTREMELY PROMISING"
Istanbul Park, Friday May 6
JENSON BUTTON
MP4-26A-04
P1 programme                                     4 laps                           2m00.666s (+21.996s)   23rd
P2 programme                                     26 laps                         1m26.456s                    1st
"I'm pretty happy with how today went. The car's been working reasonably well – there are always things you want to improve, but we've made some good progress and have a lot of useful data to go through.
"Trying to get the car to ride the bumps well into Turn 12 has been difficult, but we improved it through the session. Turn 12 is really bumpy – it's like they put a motocross jump in there!
"And Turn Eight's quite tough too because, depending on your balance, it can damage the front and rear tyres. It's about getting the balance right, which we concentrated on today.
"We haven't put everything on the car that we wanted to this weekend, which is disappointing, but we still have some useful upgrades so it's nice to keep moving forwards."
LEWIS HAMILTON
MP4-26A-03
P1 programme 1 lap                             No time                        24th
P2 programme                                     22 laps                         1m27.033s (+0.577s)     3rd
"We saved tyres during this morning's session. In the afternoon, despite the limited running in P1, we got quite a lot of our run-plan completed, which was very satisfying.
"I initially struggled a little bit with set-up, which we can look at and fix overnight, but I was really pleased with my long-run pace – I think it was probably one of the best practice long-runs I've ever had.
"Generally, our car has a pretty good baseline. We're still in the fight: the most important factor this weekend is to continue with our consistency – getting on the podium is my target, and if we can win that'll be even better!"
MARTIN WHITMARSH
Team principal, Vodafone McLaren Mercedes
"This morning's uncharacteristic heavy rain meant that we opted to conserve our supply of Wet and Intermediate Pirelli tyres by sitting out the majority of the session. With cold and unpredictable weather predicted for the remainder of the weekend, and with relatively little to learn from running on a wet track, we felt it was more prudent to save the rubber for Saturday and Sunday.
"Happily, this afternoon's session turned out drier than we'd imagined, and we were able to pack the majority of our day's run-programme into P2. Indeed, both drivers' long-run pace looks extremely promising.
"Lewis and Jenson felt happy with the balance of their cars, although both said that the bumps upon entry to Turn 12 were fairly severe and unsettled the car.
"It's too early to read anything into this afternoon's times, but we're happy that we've found a good baseline for the set-up and that we can build upon it for the rest of the weekend."
May 6, 2011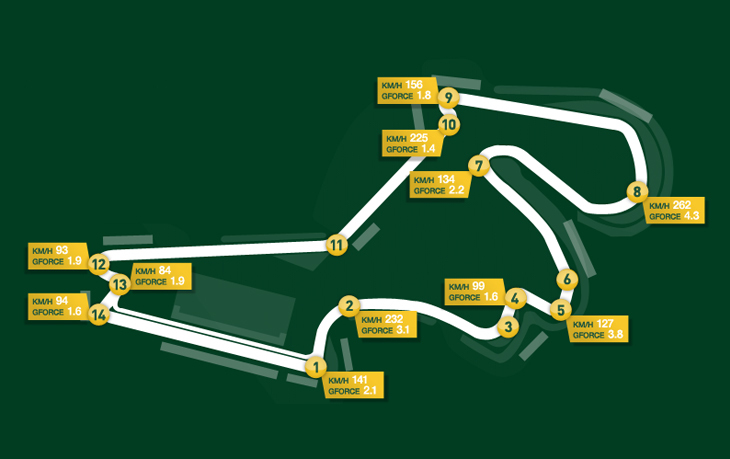 Team Lotus Information
Number of field cameras CNN has deployed worldwide
350 +
Dell technical support centres worldwide
60
Year of Pirelli company's birth
1872
Total laps
FP1
CHA – 6
TRU – 6
FP2
KOV – 37
TRU – 40
Weather
Rain (am), Overcast / dry (pm)
Min/max track temperature: 12˚/20˚
Fastest laps
FP1
CHA 1.51.676 lap 3
TRU 1.43.986 lap 4
FP2
KOV 1.30.281 lap 19
TRU 1.29.409 lap 21
06/05/11 Runplan
Karun Chandhok (FP1)
Heikki Kovalainen (FP2)
Chassis: T128-04
FP1 (CHA)
1003 – 1005: Installation (1 lap)
1005 – 1125: System checks
1125 – 1130: Run 2, 5 laps
FP2 (KOV)
1400 – 1415: Run 1, 8 laps
1415 – 1423: Adjustment – rear brake blanking
1423 – 1436: Run 2, 8 laps
1436 – 1443: Adjustments – rear brake blanking
1443 – 1455: Run 3, 7 laps
1455 – 1504: Adjustments – front suspension setting
1504 – 1511: Run 4, 4 laps
1511 – 1516: Adjustments – front wing
1516 – 1530: Run 5, 10 laps
06/05/11 Runplan
Jarno Trulli
Chassis: T128-03
FP1
1002 – 1004: Installation (1 lap)
1004 – 1125: System checks / Adjustments – front wing, brake balance, F & R brake blanking
1125 – 1130: Run 2, 5 laps
FP2
1400 – 1414: Run 1, 9 laps
1414 – 1424: Adjustments – rear brake blanking
1424 – 1437: Run 2, 8 laps
1437 – 1445: Adjustments – F&R brake blanking, rear wing element
1445 – 1458: Run 3, 8 laps
1458 – 1509: Adjustments – front wing, rear wing element, front brake blanking
1509 – 1530: Run 4, 15 laps
Karun Chandhok: "The wet weather meant we limited the morning runplan but despite that it was good to get back out on track. I didn't get a chance to push but I'm enjoying working with the team and the more time I spend with everyone the more I can see how far this team can go. There's a great spirit across the whole garage, and back in the factory, and with the constant progression towards the midfield this is a great place to be working in."
Heikki Kovalainen (car 20): "That was a reasonable session for me – I had a DRS issue that definitely cost me some time but I think the balance was pretty good and we got through some decent setup work so I think we'll be ok tomorrow."
Jarno Trulli (car 21): "I'm pleased in general with today. It's been a positive, trouble free day and we managed to run through a number of options that give us a good direction for tomorrow and the race. We have made an adjustment to the power steering and that's definitely improved things in the cockpit for me but there's more to come from that and the whole car so I think we can go into tomorrow in good shape."
Thierry Salvi, Renault Sport F1 Support Leader: "We didn't manage to do much running in P1 this morning due to the weather so we had to work a lot harder during P2 this afternoon, especially with specific engine mapping. I hope we will have good feedback from the drivers and can take another step forwards on strategy. I think there is more to come from the whole package tomorrow so this was a pretty good start to the weekend."
Mike Gascoyne, Chief Technical Officer: "A pretty good day. Obviously we had limited running this morning in the wet conditions as we wanted to save tyres in case we have to use wets in the race. Unfortunately that limited the running Karun and Jarno could do but this afternoon we completed the whole program without any real problems with the performance levels we showed I think we are looking at having a pretty good weekend."